As part of the audience at the Leicestershire Academies Group summer conference at the Hilton Hotel in Leicester, Eteach was treated to an excellent presentation by Paul McGee – the bestselling author of 'Sumo Guy'.
His aim was to give insights, inspiration and practical tips in how to deal with challenge and change within an academy and trust environment.
He said, "Change in any organisation creates a domino effect, which can be positive or negative depending on how the uncertainty of that change is managed.
"To manage and control the change in organisations he promoted the idea of 'Fruity Thinking' (which is 'good for your head' and creates positive results) rather than 'Faulty Thinking' (which is bad for you as it increases stress and anxiety and leads to self-doubt)."  Here are three ways how:
1. To create 'Fruity Thinking' take your normal unconscious behaviour and stop to ask if there could be a more positive, worthwhile way of doing something. Challenge yourself.
2. If you find yourself in a 'Faulty Thinking' situation where your 'inner voice' is causing you self –doubt and to be overly hard on yourself, take a breath and push back. Be kinder to yourself. Listen to your coach voice, not your critic one.
3. Learn the difference between 'worth-it worry' and 'worthless worry'. Worth-it worry leads you to make a plan and do something to instigate change and take control. Worthless worry is energy wasting, because you can't control the outcomes whatever you do. Remember to ask 'Where is this issue on a scale of 1-10? (Where 10 is 'death'). This will help you to keep the worry in perspective.
Sumo Guy reminded everyone that no one can be positive and happy all the time. We are all allowed some 'Hippo Time' where we wallow in feeling a bit down and out with things. However, the difference is to know when that time is over and make a plan. You need to realise this is a temporary moment and you can move on from it. The easiest way is by asking others for help. This is not a weakness.
Other gold nuggets from the session included:
- Like and elastic band, we all need to be stretched through challenge and a purpose, but equally we need recovery time as well.
- Even in a world full of technology nothing beats a talk face-to-face to support each other and cope with challenge and change.
- Identify what is your 'oxygen- mask'? Something that breathes life into you when you are full of stress and anxiety. Use this to keep you balanced after a difficult day.
- Remember many of life's opportunities actually lie outside your comfort zone.
- Beware of CNN- Constant Negative News and how it can affect your feels and emotions. Same with people who have 'victim attitude'. Both of these can make change hard to manage.
- If you fail it does not make you a failure- it was just your 'First Attempt in Learning'
- Leaders should be thermostats not thermometers, in their organisations. They should set the mood for their staff rather than react to it.
- All staff should be 'Directors of First Impressions' for your school.
- Remember people matter. Ask your staff 'Are you MAD?' – Making A Difference!
- Remember to recognise those who are. Praise goes a long way to bringing about change.
Finally I know you are all dying to know what SUMO means. For the less sensitive of you out there is basically means 'Shut Up, Move On' or alternatively if you prefer 'Stop, Understand, Move on.'
Even if you take just one of SUMO Guys ideas on board and add it to your 'Toolkit for change' it's another way to help manage the constant challenge that is working in education in 2018.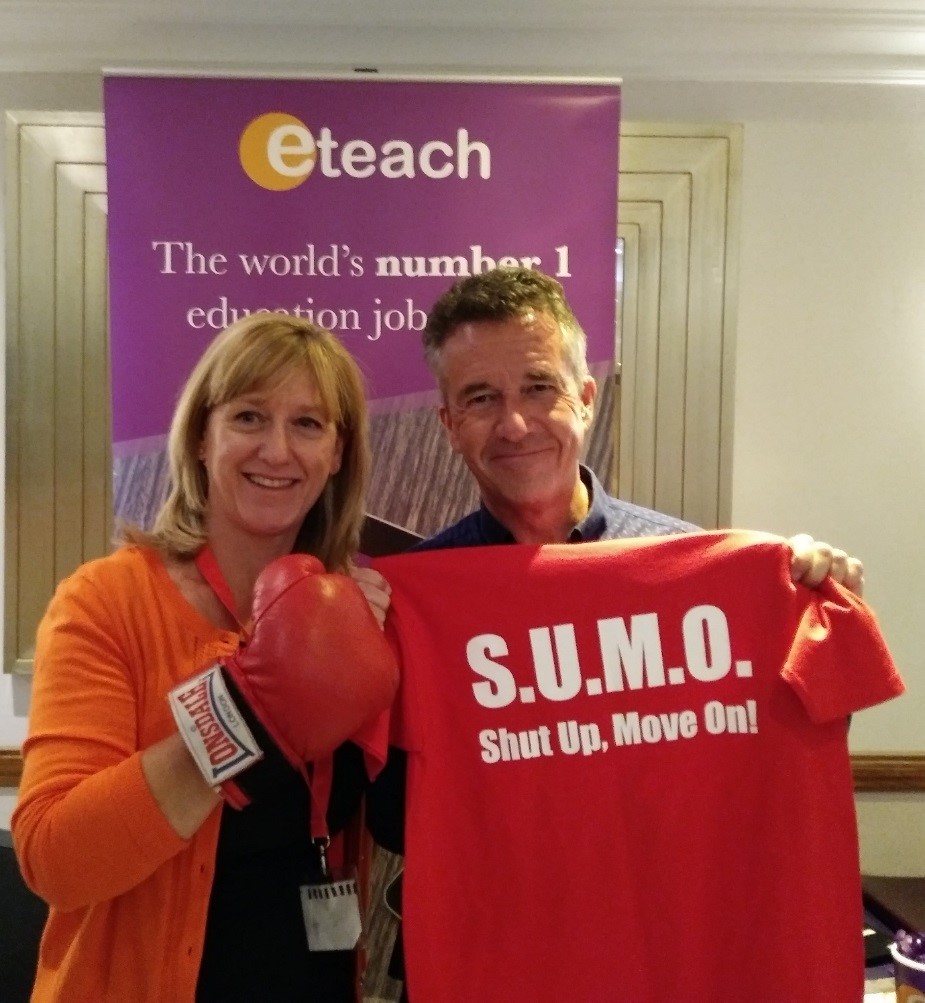 About the author
Gerry Manolas
Gerry Manolas is a Key Account Manager for eteach.com, the UK's national education job site.