Are you ready to change your strategy to compete for teachers this year? You can reduce your costs significantly and attract many more relevant, talented teachers by implementing a few changes.  
Technology has moved on, candidate habits are shifting rapidly and new pressures on performance, immigration and teacher training is affecting the pool of talent from which you can recruit. The advertising model used only five years ago no longer yields the results you need, so you need to move with the times.
A new direction
Candidates are better informed and very well connected. They are also increasingly the new generation X and millennials. A quarter are now under 30 while the 50+ age bracket has fallen by 6% since 2010. Social media builds brands and bridges quickly. Millennials shop online, source dates online and shop for career moves online. Is that where you are? 60% of job seekers visiting eteach.com do so on their mobiles. Only schools offering mobile-optimised ads and application methods can compete. If candidates have to pinch and squeeze their screen to fill in tiny fields, you'll never hear from them.
The teacher talent pool is more squeezed than ever. Teacher count is stagnating, and pupil numbers are increasing by more than 20% by 2025. Teachers are no longer categorised as 'passive' (employed) or 'active' (seeking). Their constant exposure to career opportunities via social media mean they can also be actively applying, casually browsing or comfortable but open to offers.
Here are 2019's top recruiting trends that you can combine to slash your spend and dramatically improve your talent flow.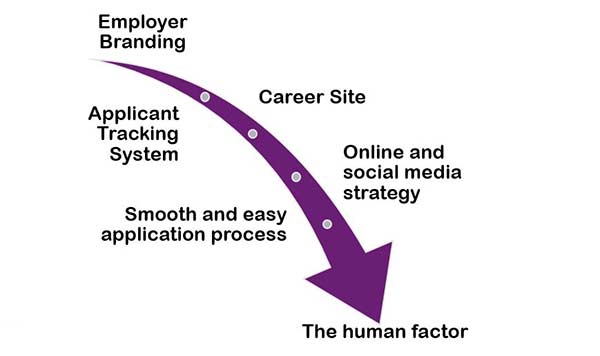 Trend #1 Mobile-optimised adverts
60% of job-seeking teachers on eteach.com are now transacting via mobile. Incredibly, some advertisers in the education industry actually charge extra to optimise your advert for mobile screens! Choose job sites that optimise your adverts for you without charging extra.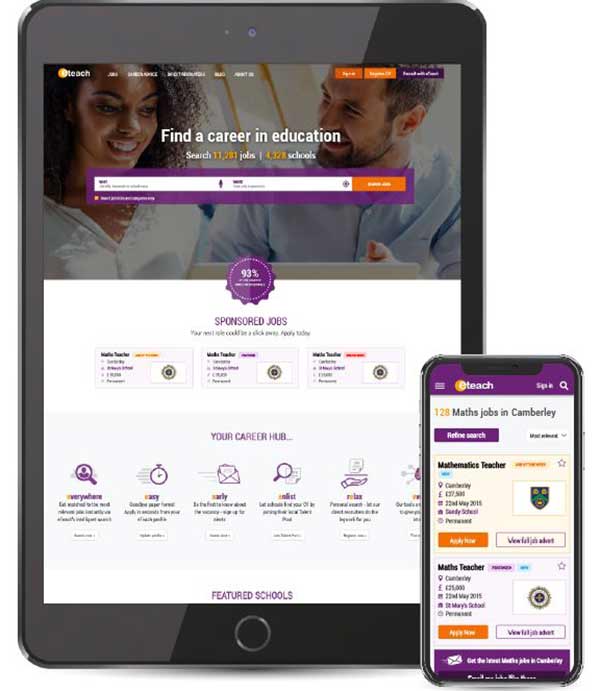 Trend #2 Using social media for reach
47% of teachers say they use social media to collaborate with colleagues, so we aren't surprised to find that twice as many educators this year visiting eteach.com have just clicked over from one of our social media links. Our schools double their advert views when we share them on social. Digital consumers are now spending 2 hours and 22 minutes per day on social networks and messaging… so you need to be where they are.
Trend #3 Stepping up the candidate experience

Schools offering digital application forms get double the applications per advert. This means that if you're expecting candidates to download and upload application documents, you might as well cut your reach in half. Instead, the most advanced recruitment software (like Eteach and School Recruiter) includes a digital replica of your own school form (so you can keep your unique set of questions) and has the added benefit of feeding the candidate data directly into your ATS, thus cutting out your GDPR-risk too.
Trend #4 Employer brand marketing
Your school is a brand. It stands for something and other people have sentiment towards it. Job seekers are particularly aware of this as they choose to commit their application time and their career to you. By creating a dedicated career site (not your parent-facing website) you can establish your brand to actively outbound market via social media, email campaign and the school staff and parent networks. This will increase your initial responses to each advert, reduce 'applicant drop-off' and begin to grow and nurture your own school Talent Pool.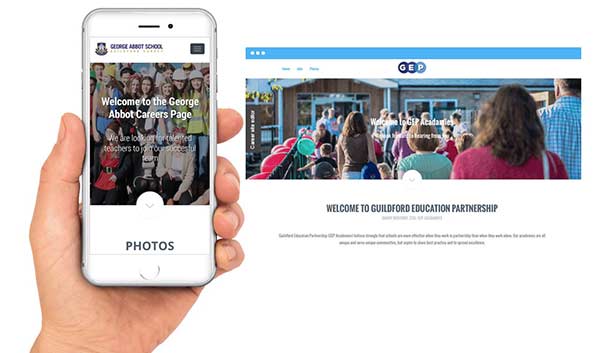 Trend #5 Getting your money's worth

Advertising is predominantly online now so if you advertise more than 3 vacancies per year, it makes sense to take a subscription for unlimited advertising for a one-off cost, and put out hundreds of adverts inviting people to your Talent Pool.
Trend #6 Proactive inbound recruiting – or 'Continuous Candidate Engagement' (CCE)
This is a strategy to create and grow a talent pipeline to be the future staff for your school.  Instead of recruiting reactively from a limited pool of candidates when a vacancy arises, successful schools are creating a year-round attraction campaign that organically attracts the right candidates to register their interest in working for their brand. They collect them into a Talent Pool until a vacancy arises.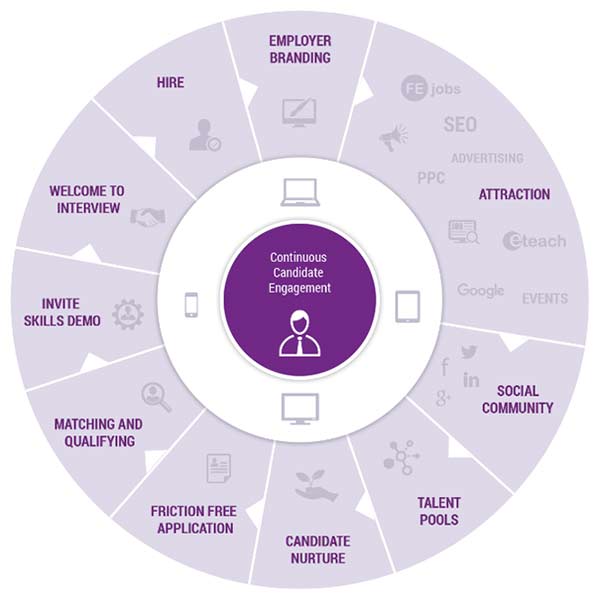 Trend #7 Talent Pooling 
Why not just develop your own bank of skilled teachers? Now you can recruit year-round into your unique Talent Pool. Many of our MATS who took proactive control and advertised their employer brand year round, driving local, warm advocate career teachers and other school professionals into their Talent Pool saw a 50% fall in their annual recruitment spend.

Trend #8 'Fast-apply'
This new job-site tech is how all the most successful employers are pulling in the applications. Fast-apply pulls data into your application form from the candidate's social media or Eteach profile in a few clicks, rapidly shortening the time to get in front of you. Also, 30 questions or more results in 50% fewer applications, so keep it short. Incredibly, 45% of our candidates told us your forms take more than 2 hours to complete! For your own sake, be the school that's easy to apply to! 
Trend #9 Candidate nurture
You haven't taken them on yet, but think of them as staff and appreciate they like to feel valued. By continuously communicating with Talent Pool members whenever a vacancy arises you create warmth. Unlike the other schools who simply have that teacher's name on a list, this continuous communication with the candidate ensures that your school stands out to them as a community they are already part of and helps them view you warmly. Encourage them to follow your Twitter feed and LinkedIn.
Trend #10 Trust-wide recruitment
As Trusts and large groups become more common, we are seeing many more Trusts use their size for efficiency. In recruitment, they share one HR professional who knows the market and knows how to proactively create candidate flow. They share the full count of candidates from every advert across schools, and for retention they offer roles across their schools to keep talent in the group.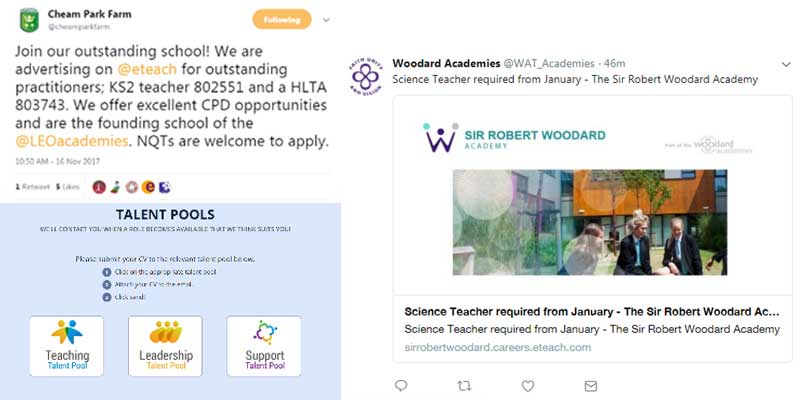 Trend #11  Automated recruitment (ATS)
An applicant tracking system really is a must in today's digital world. It allows you to quickly create job adverts enhanced for search engines and broadcast those vacancies on free or paid job sites as well as social media channels in just a few clicks. Using SEO (Search Engine Optimised) templates and an intuitive form builder, you can create simple but compelling adverts that will yield results. You can find out more about the award winning ATS designed specifically for schools and colleges here. 
Trend #12 data-led recruiting 
Now it is commonplace to use data analytics to refine your recruiting process and measure the return on investment. It is straightforward to track where your most qualified candidates came from and gain a clear overview of all your recruiting activities. Most importantly – this practice will help you to optimise your spending. 
See how data driven recruitment can benefit your school here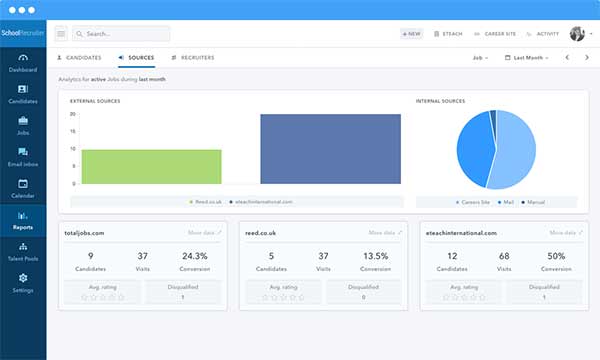 Trend #13 GDPR-complaint recruitment
The commonly used method of emailing application forms poses a risk to schools. The process of receiving emailed attachments and sending them to staff who might open them on their phone or PC creates countless 'local' copies of the application form electronically all over your school devices. Not to mention printed versions. Thankfully, technology has moved on: you can now offer candidates your perfectly replicated application form digitally, which feeds each field of data directly into your secure applicant tracking system. The data is cloud-based which allows your team to log in and view the electronic candidate record to shortlist, never creating a version that can be forwarded or accidentally saved.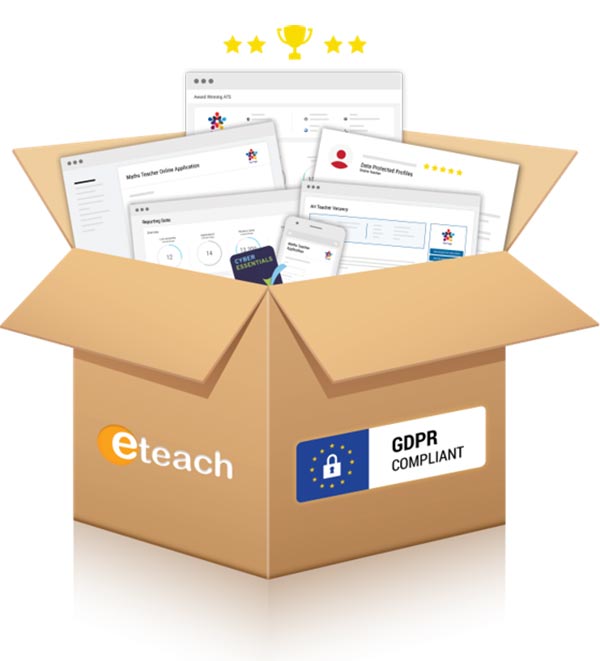 Trend #14  Employee and parent networking
Use your veritable network of parent and staff locals to attract your next teacher instead of paying an agency to do it! But first, you need to get over feeling ashamed for having vacancies. Once you have an online advert (via eteach.com or other) schedule it to post repeatedly for the next few weeks on your social feeds and vitally, share it to everyone you possibly can, then ask them to reshare it. Remind them that for every teacher they source instead of an agency, that's about £5,000 they have saved for a school trip instead. As a parent, I can guess where they'd rather you spent that cash.
Trend #15  Passive pool resourcing 
Using a recruitment specialist takes your recruitment campaign beyond the (comparatively) small 'active' talent pool, presenting the opportunity to high-calibre candidates sourced through network recommendations, who are not looking daily at job-boards etc. These are very often highly desirable candidates as they are often well rewarded and engaged in their current schools for a good reason. Arrange a call back from a specialist recruiter here.
Interested in moving your recruitment into the 21st century?
Eteach is the only fully advanced ATS in education. It comes with the most cost-effective recruitment tools in the sector, including mobile-optimised adverts as standard and digital forms. If you're ready to find out what Eteach can do for your school or college, visit http://www.eteach.com/recruit/ats  


About the author
Katie Newell
Katie Newell BA(Hons) PGCE is an ex-primary school teacher, Head of Maths, Head of Year five and languages specialist. Katie qualified in Psychology at Liverpool then specialised in Primary Languages for her PGCE at Reading. Before teaching, Katie was a financial commentator and is now the Content Manager for eteach.com and fejobs.com. Katie feels passionately that teachers are the unsung heroes of society; that opening minds to creative timetabling could revolutionise keeping women in teaching, and that a total change to pupil feedback is the key to solving the work life balance issue for the best job in the world.