Applicant Tracking System
Built to save time and money, our applicant tracking technology is the most advanced recruitment software in education, and is available with the eTeach Premium Licence.
The first product of its type developed especially for the education sector, the eTeach ATS is powered by social, mobile, analytic and cloud technologies, which provides you with a suite of tools to deliver an intuitive and powerful platform that will enhance your school's hiring.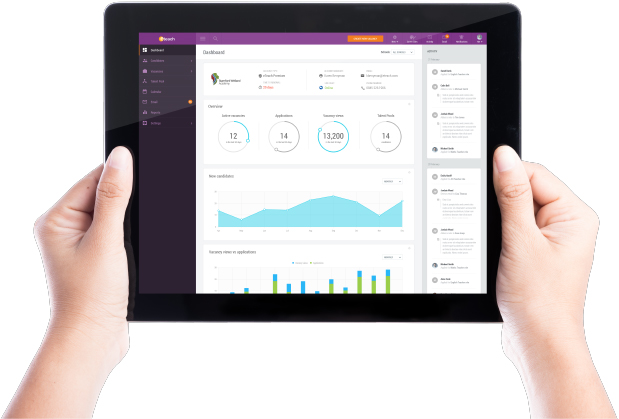 Customise your mobile-friendly career site
Instantly give your school or college career site a makeover with our powerful, real time page editing software that integrates with your social media pages and is fully mobile optimised.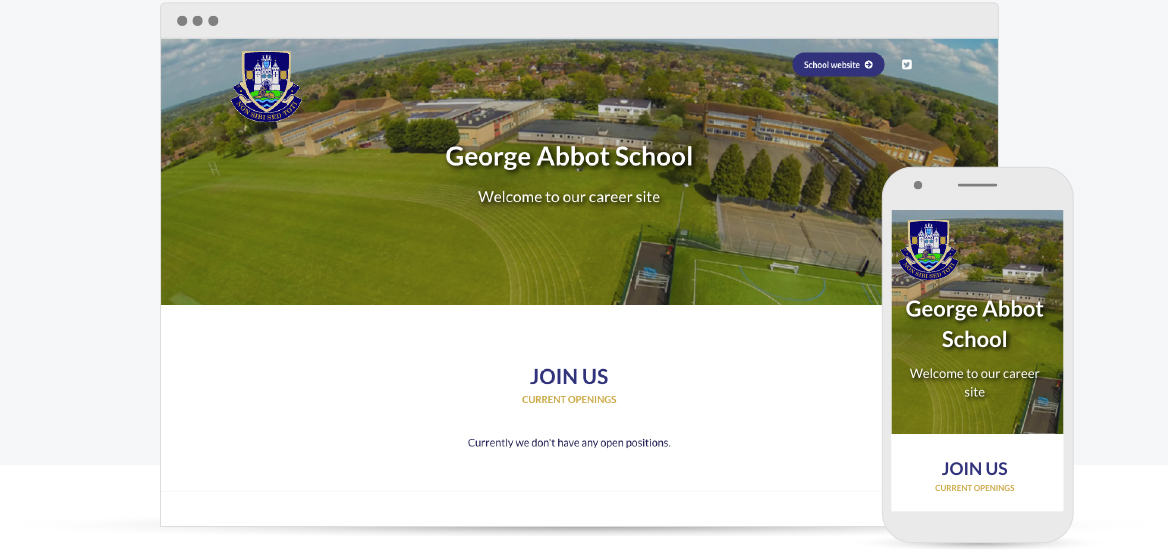 Attract teachers
Create job adverts for search engines quickly and easily with help from inbuilt advert templates. For the widest possible reach, use the vacancy broadcast feature to instantly broadcast it to eteach.com, fejobs.com and any other free or paid job sites as well as your social media channels in just a few clicks.
Request a call back
Learn More Mobile optimised as standard
Also fully mobile-optimised as standard, your advert can reach and engage another 50% of education professionals who prefer to search and apply by mobile device, all included in your annual subscription without any costly surprises.
Request a call back
Learn More Career site
A good recruitment strategy begins with a great career site. Mobile-optimised to maximise viewers, your branded career site is the home of your employer brand and the hub for your candidate nurture campaigns. The backbone of your Continuous Candidate Engagement strategy, keep your career site and social media profiles fresh:
Showcase your attractive employer proposition USPs drive teachers to register into your Talent Pool 365 days per year
Host your vacancies in one central place
Use existing staff testimonials to make clear why you're the career school of choice
Deliver 'connected' marketing
Request a call back
Learn More Be the school that's easy to apply to!
Fully customisable online application forms and 1-click-apply.
Short forms catch candidates. You can successfully compete for the teaching talent by offering the easiest and quickest application routes. The eTeach system includes mobile-optimised online forms tailored to your local authority's or school's content needs, as well as 1-click apply, which allows candidates to pre-populate their forms instantly from their online profiles.
Request a call back
View packages Manage your candidate journey
Configure your own hiring process and use drag-and-drop functionality to simply manage candidates through to hiring or save them for another recruitment cycle in your own Talent Pools.
Request a call back
Learn More Recruit year-round into your unique eTeach Talent Pool
Grow your own bank of skilled teacher contacts for free to call upon when a vacancy arises. Run year-round attraction campaigns to drive talented candidates into your own Talent Pool and create a community of educators that have a genuine interest in working for you. Stay in touch with candidates from previous recruitment cycles or share great teaching talent with other schools in your MAT or group.
Request a call back
Learn More Interview as a team
Keep accurate records of every encounter with a candidate and work together to assess each candidate's suitability with configurable core competencies, notes and an internal ranking tool.
Request a call back
Learn More GDPR compliant data storage
Keep sensitive data and important documents secure in an encrypted format and offer separate and customisable application forms and equal opportunities forms. Select bespoke user permissions for the right team members to view and process important candidate data safely within the remit of GDPR. Issue and maintain the relevant privacy policies and permissions and maintain a clear audit trail.
Request a call back
View packages Measure your recruitment spend
Use data analytics to refine your recruiting process and measure the return on investment. Track the source of your most qualified candidates and gain a clear overview of all your recruiting activities. Upload all candidate data to your existing HR software to ensure your new recruits are onboarded in a timely manner.
Request a call back
Learn More Instant customer support
Every dashboard has an automated Help Centre with easy to understand answers and videos for all your eTeach ATS/School recruiter questions. Backing this up is a useful FAQ section, however our customer service team is just a phone call away at all times.
Request a call back
View packages