Our search has begun for London Teacher of the Year 2019.
The Royal Aeronautical Society's Mayfair headquarters will host a glittering awards event in June 2019 endorsed by celebrity Terry Waite.
The event aims to find the very best teachers, support staff and volunteers working within schools in London who go above and beyond the call of duty for the benefit of their pupils and school community.
Ex-Teacher and Eteach CEO, Paul Howells, comments, "We are overjoyed to be able to recognise the excellent services to young people in this way, and I encourage all 7,000 of our schools to nominate at least one person or team."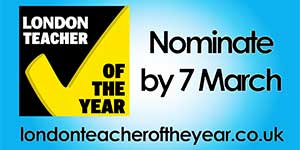 In partnership with educational charity Inspire Schools, Eteach are inviting nominations from the public, professionals in the education sector and from school staff.
Visit www.londonteacheroftheyear.co.uk for the nomination page before March 7th.
Academic categories include: literacy, maths, sport, foreign languages, science – biosciences, physics, chemistry, forensics, drama and performing arts, history, citizenship and politics, fine art and music and early years foundation stage leader, as well as the major categories of primary school teacher of the year, secondary school teacher of the year, team of the year, senior leadership team and head teacher of the year.
Everyone from career advisers, those involved with pastoral care, school secretaries, dinner ladies and caretakers will be recognised through the event, as will members of the PTA, school governors and volunteer readers.
Terry Waite, humanitarian and author, said: "The Teacher of the Year Awards is a wonderful opportunity to say thank you to a member of school staff who has helped shape a child's life. What I am particularly pleased with is that support staff and volunteers - as well as teaching staff - can receive recognition through the event. I do hope you consider submitting a nomination."
London Teacher of the Year is staged by Inspire Schools and is supported by multiple London boroughs. Nominations are accepted from January 1 to March 7 each year. Visit www.londonteacheroftheyear.co.uk to submit your entry. Follow Teacher of the Year on Twitter @eTeach, @InspireSchools1 and #LToTY
About the author
Katie Newell
Katie Newell BA(Hons) PGCE is an ex-primary school teacher, Head of Maths, Head of Year five and languages specialist. Katie qualified in Psychology at Liverpool then specialised in Primary Languages for her PGCE at Reading. Before teaching, Katie was a financial commentator and is now the Content Manager for eteach.com and fejobs.com. Katie feels passionately that teachers are the unsung heroes of society; that opening minds to creative timetabling could revolutionise keeping women in teaching, and that a total change to pupil feedback is the key to solving the work life balance issue for the best job in the world.