What's new to Eteach this autumn?
We hope you all had an enjoyable break and well-deserved rest over the summer holidays. We've been making the most of this time to continue improving our products and services, ensuring your recruitment with us can be as efficient and effective as possible.
---
Premium customers lite customers
More edit vacancy options on Application
After taking on board customer feedback, when editing a vacancy, you will now be able to edit key areas of the Application section. While you are now able to edit more on this section, it is still your responsibility to ensure you are offering all candidates a fair and inclusive recruitment process.
---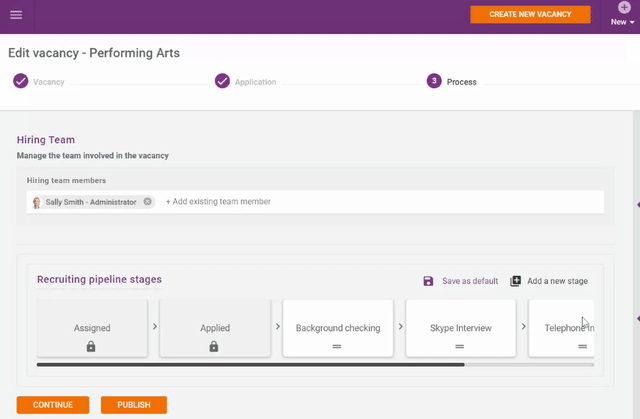 Premium customers
Edit your Recruiting Pipeline once a vacancy has been published
You can now create, rename, delete or move a recruiting pipeline stage once the vacancy has been published. Any changes made to your Recruiting Pipeline will show in your school or group's activity log for full visibility.
---
Premium customerslite customers
Declarations on the online application form
Before the summer break we contacted you to update you on our declarations text. Our online application form is fully compliant with an updated statement, questions and additional links for more information should the candidate require it. These changes are available in both English and Welsh.
---
Premium customers
Enhanced Career Site journey
We've made some changes to improve the journey for candidates on your Career Site if you're using the "Divert candidates to another site" application method. Candidates will now see a page more fitting to the chosen application method, including messaging on your Career Site letting them know they've been redirected to another site. Please note, application confirmation emails to candidates will not be sent when using this application method.
---
Premium customerslite customers
Candidate photos request function

A key feature for international schools, you will have the ability to request candidates include a photo when applying using the online application method. This can be achieved via Settings or on the specific vacancy. You can also choose to make this an optional field, mandatory field or turn it off completely. Hiring managers that are blind recruiting will not be able to see photos to avoid discrimination and unconscious bias.
---
Behind the screens changes
We've been making some key behind-the-scenes (or should we say, behind-the-screens!) changes to the Client Portal and products to work on stability, compliance and security – such as preventing documents from being accessible if a link is shared without appropriate permissions.
Log in to the Client Portal now to see the latest functionality. Not seeing these changes? Contact your Customer Success Manager to discuss upgrading your account.
About the author
Emily Godolphin
As Eteach's Product Marketing Manager, Emily is passionate about giving schools and colleges the ability to seamlessly recruit and hire teaching staff across the UK and beyond. Emily graduated with a first class honours degree in Education Studies at the University of Winchester and has since had 9 years of experience in marketing for recruitment companies.