What's new to Eteach this spring?
Welcome back, we hope you've had a relaxing Easter break! We have been busy making improvements across the job board and Client Portal to keep your recruitment moving forward, especially during these challenging times.
---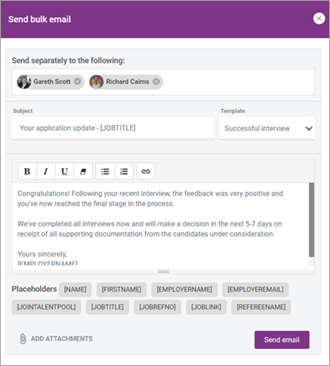 Premium customers lite customers
Bulk email improvements
Based on client feedback, we've tidied the bulk email system up. Rest assured, whenever you email multiple candidates through our system, each recipient will never see the other candidates who also received the email. We have updated the bulk email tool to reflect this in a clearer way.
---
Premium customerslite customers
Inline document viewer
This has been developed to save you time and keep your recruitment experience as seamless as possible; now when you view documents that have been uploaded to your Client Portal, they will show within the Client Portal rather than needing to be downloaded and opened in another application.
You still have the option to download files that you need outside of the Client Portal.
---
Premium customers
Schedule online interview improvements
To keep schools recruiting safely during the pandemic, we are constantly ensuring our schedule online interview premium feature is market leading.
Recently we have improved the schedule interview process for our Welsh language clients, we've improved the avatars that show on the Client Portal and we've updated some redirects related to the integrations page.
Haven't used this yet? Find out more about the benefits of scheduling your online interviews within the Client Portal here.
---
Premium customerslite customers
Application notification emails
Too many email notifications? We have now improved the "summary" emails for daily and weekly application notification emails. This summary email will give you a quick snapshot of every vacancy that you are following and show how many applications have been received in that time period.
We have also improved the email templates so that they will display correctly in all versions of Outlook and iPhone.
Have you updated your notification frequency? Find out more and review your notification settings here.
---
Premium customerslite customers
Job advert pop up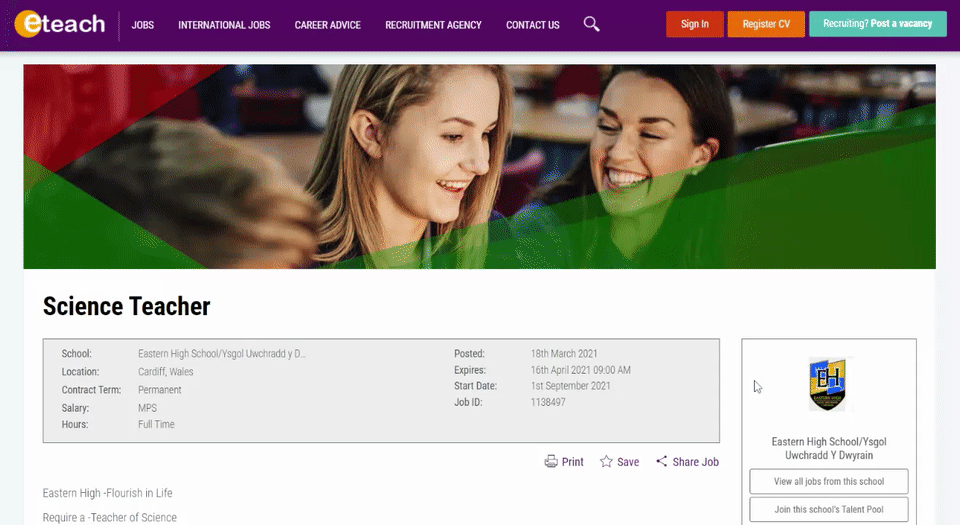 When a candidate looks like they are about to exit the page when they are viewing your job advert, a pop up will display giving the candidate options to stay on the site. Candidates are encouraged to "save" your job so they can come back to it later when they have more time to apply, as well as having the option to join your Talent Pool, or carry out a new job search.
We have implemented this to keep candidates on the site for longer, giving them more opportunities to search and apply for jobs.
---
Premium customerslite customers
Declaration updates
Following changes to the DBS filtering rules, we've changed our declarations questions that show at the end of our online application form to remain in line with this new directive. This step has been made to ensure our online application form is fully compliant and up to date with the latest changes within the education industry.
These changes have been made to both the English and Welsh language online application forms.
---
Coming up
We're looking to make some significant SEO improvements over the next few weeks to further increase the visibility that your jobs are getting, meaning more views and more applications.
Log in to the Client Portal now to see the latest functionality. Not seeing all the functionality? Contact your Customer Success Manager and talk about upgrading your account.
About the author
Emily Godolphin
As Eteach's Product Marketing Manager, Emily is passionate about giving schools and colleges the ability to seamlessly recruit and hire teaching staff across the UK and beyond. Emily graduated with a first class honours degree in Education Studies at the University of Winchester and has since had 9 years of experience in marketing for recruitment companies.