A new functionality is taking the recruitment sector by storm, and the schools who have jumped on board are reaping the benefits.
Over 180,000 job-seeking educators visit the eteach.com site every week; each candidate looks at about 5.2 job adverts every time they check the site. Then, very advanced algorithms match specific job alerts to the right candidates, and even more advanced A.I systems identify what they are reading and clicking on to refine and serve even more accurately the roles most suited to them.
Nonetheless, what is the biggest definer of how successful a recruitment advert will be?  The type of application form offered.
There are two reasons school recruitment has turned this corner: (1) digital application form development in line with the Applicant Tracking Systems and (2) and the increasing cost-effectiveness of online advertising.
What do we mean by digital application form?
Digital application forms are simply a screen-based form accessible by any device, particularly phone screen, of the type we all use daily for online payments and booking systems. With a 'fast-apply' function enabled, even fairly long versions of these digital online forms can take as little as one minute to fully complete because they instantly upload your data from your profile in a click.
These digital forms have transformed the jobseeking experience for candidates in all industries, but make particular impact in the education sector where the workforce itself is in shortage and the antiquated application process is exceptionally onerous. They are also of great benefit to an employer for job application forms as they upload instantly into your candidate management/Applicant Tracking System (ATS).
Why now?
The main change in candidate behaviour in the last year is mobile use. Around 70% of job seeking activity on eteach.com is via mobile screen now so it's obvious why schools offering the mobile-optimised digital forms are receiving typically twice as many applications per advert.
By asking a jobseeker to move to a PC or other device to complete a form, or to download one, you cause drop-off. Some schools are even still asking teachers to download and print and post forms!
Anecdotal evidence from our teaching candidates here at Eteach is that they won't apply to an advert if (a) they can't find any more great information about you online and (b) it's too difficult to get through your form.
Once they have decided to apply, the industry standard for drop off is over 60% in unfinished application forms. Why? Quite simply, your forms are too long.
Our last annual survey (3,000 respondents) revealed that a downloadable form takes well over 2 hours to complete in nearly half of cases. It's no wonder they are abandoning it part way. Meanwhile, you have written up your advert, even caught their attention, but there you are left wondering why you aren't hearing from anyone.
Different schools ask for different quantities of data on their forms, and the ones with longer forms pay the price. We found that for every 5 questions, an advert receives 15% fewer applications and for every 30 questions, an advert receives 50% fewer applications.
How long typically does it take you to fill in one school application form?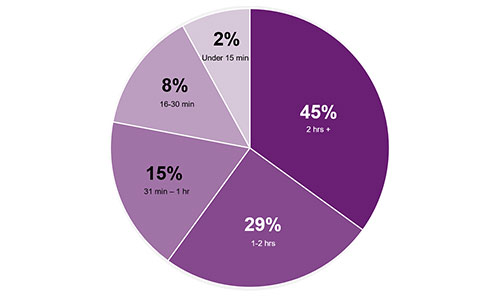 In the wake of GDPR, a great many schools were found lacking in their processes for acquiring and storing candidate data which resulted in an uplift in demand for robust Applicant Tracking Systems (ATS). As well as giving a pleasant drag-and-drop interface for the management of job applicants, as well as countless other advert-writing and reporting tools, these systems are able to 'pars' up CV content directly into your database, or take data directly from a digital application form, which itself has pre-populated in a click from someone's Linkedin or other online profile. If you're easy to apply to, the application drop-off rate falls away.
Hand-in-hand with this huge improvement in candidate experience is the increasing ease of getting relevant eyes on your ad in the first place. Online advertising is increasingly good value as adverts are more prolifically shared and spread organically by email and on social media. Schools using even just their parent network and teacher network reap the benefits, but particularly so if they engage the services of someone like Eteach with huge teacher audiences and search engine marketing know-how.
Why are schools so far behind their counterparts in other industries?
At last month's Education Executive forum, around half the school leaders told me they are trapped using a long unwieldy form because that is the only format provided by their LA or Group where they continue to be bound by equality rules that can apparently only be satisfied by all prospective staff filling in the same form.
Academies have the advantage here because they have more freedom to craft a teacher candidate experience that is welcoming and efficient. However, some Trusts remain 'traditional' in their recruitment methods.
If this is the case for your academy/school, I can't stress to you enough how important it is that you lobby your LA/group to take this issue seriously and upgrade your tools, because you are significantly disadvantaged in your staffing efforts compared to academies, free schools and independent schools who are free to attract and engage staff straight from their mobiles. 
Here are five steps to dramatically increase your flow of inbound applications:
Offer a mobile optimised digital application form – it typically doubles the application rate per advert.
Share your advert on Eteach's social media and train parents and staff to take responsibility for sharing too – this too typically doubles the views per advert.
Feature the benefits of working for the school first on the advert and signpost clearly to the career page/site.
Respond immediately and personally to individual applications. If you wait for 3 weeks then responding to everyone, you lose the best ones to competitors.
Only use very knowledgeable school advocates for the tour, preferably the Head or Deputy. Remember, you're competing for them so 'impress while you assess'.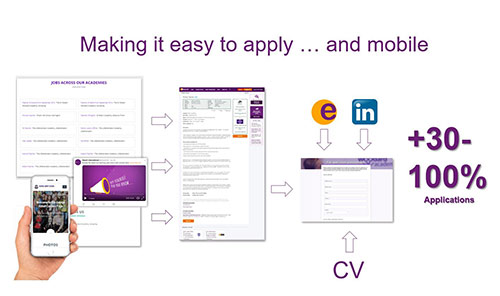 How to make your school accessible to higher quality teaching staff
Clinging on to a long and antiquated form also has repercussions on the resulting quality of your staff. The more senior the role you are recruiting for, the more likely it is that the most suitable candidates are already secure in a role, a 'passive' jobseeker. These are the people whom you want to impress with your school as a future career proposition, by getting your school employer brand noticed in their leisure time. It is for this sort of role that you benefit most from advertising year-round and inviting people into your Talent Pool. Yet consider the candidate experience of those established teachers who are currently already working, if you do pique their interest with a n advert, they need to express their interest to you quickly and easily; only a digital instant-upload option from an online profile or CV parsing will do; there is no place for long downloadable forms viewable only on a PC.
Better, smarter, faster recruitment
Of course, it doesn't matter what form you offer if you can't get past doors one and two. Door one is a decent advert. These days you must start by selling the benefits of the school to compete for the best talent.  It is also critical that this advert be mobile-optimised. Without optimising job adverts and applications for mobile (coding them so they resize for small screens automatically and don't require pinching) you are disregarding hundreds of candidates who may otherwise be perfect for the role. The tech-savvy maths and science teachers are the ones particularly in demand. Eteach.com mobile optimises schools' adverts as standard (unlike some of our competitors).
Door two is the career page or site you offer to the jobseeker to reassure them that you're worth applying to. Because application forms take so long, teachers will cherry-pick which to apply to based on what information they can find about you online. 60% of job seeking teachers say a school careers site would make them more likely to apply.  Back up your advert with an impressive career site packed with staff testimonials, information and benefits to differentiate yourselves from other establishments.
Put simply, be the school that's easy to apply to.
To find out more about how Eteach can help connect with more teaching talent while cutting your annual recruitment costs significantly, why not have a chat with us today?
About the author
Katie Newell
Katie Newell BA(Hons) PGCE is an ex-primary school teacher, Head of Maths, Head of Year five and languages specialist. Katie qualified in Psychology at Liverpool then specialised in Primary Languages for her PGCE at Reading. Before teaching, Katie was a financial commentator and is now the Content Manager for eteach.com and fejobs.com. Katie feels passionately that teachers are the unsung heroes of society; that opening minds to creative timetabling could revolutionise keeping women in teaching, and that a total change to pupil feedback is the key to solving the work life balance issue for the best job in the world.