Contact us: 0845 226 1906
Building Your Employer Brand Online 3 - Social Networking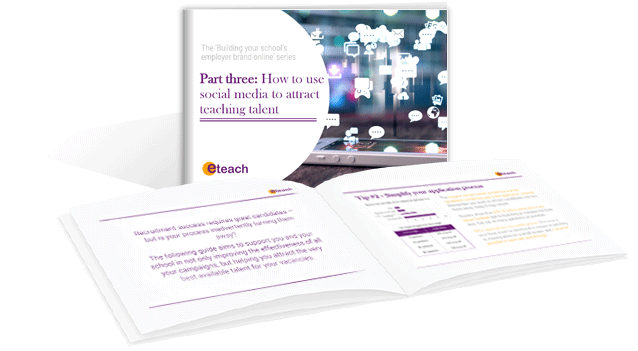 This guide will tell you:
How to utilise social media platforms to attract candidates to your school
Why positioning yourself as an 'employer of choice' is vital in recruiting top teaching talent
How social media can extend your reach help get more eyeballs on your ads
Download your free guide now
A little bit more about what you'll be reading...
Use this step-by-step guide to find out how to use social media to attract talent to your school – including increasing your school's online profile, advertising your vacancies via your social channels, positioning yourself as an employer of choice, making your school more searchable online and partnering with a recruitment company like Eteach to take advantage of their social followers.
Did you know that you can capture more of the candidates who see your advert by offering 1-click application via their social media profiles? Find out how and more in our handy social media guide for school recruiting.