With a renewal rate of over 95% each month Eteach continues to drive and push forward on delivering the best in class recruitment service to all our clients.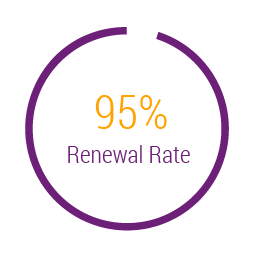 Eteach have been a fantastic agency to work with, in particular, my consultant Shannon. As a Multi-Academy Trust based in Luton, with two primary schools and two secondary schools, recruiting high quality teachers isn't the easiest thing to do. However, with the help of Shannon she has provided the Trust with exceptional candidates, both primary and secondary. I can trust Shannon to put forward candidates that meet my specification and in a timely manner.
When other agencies haven't been able to deliver, Shannon has come through. Not only does she deliver but she is always available to get hold of, always keeps me in the loop and is always honest with me. It's also important to understand how busy schools are and when is best to contact them. Shannon never pesters me and definitely doesn't send me irrelevant CV's. Working with Shannon and Eteach is a pleasure and would highly recommend their services.

We have been using Eteach for three years and find the website efficient, effective and easy to navigate. We have advertised a variety of posts and have received a good level of interest from high quality candidates using this method. Whenever we have had to contact the Eteach support team we have found them very helpful.

We're very happy with the service so far and have had more applications than ever

We believe that Eteach offers excellent value to our members. As staff recruitment continues to be a key issue for Head Teachers, the dynamic service provided by Eteach offers a real alternative to traditional press advertising.

We use Eteach as one of two areas for our recruitment advertising. Eteach works very well for our school and we have successfully placed a number of positions through them. It is cost effective for us and we feel that we are getting great return on investment.

We really enjoy using Eteach. It is such an easy and straightforward process to upload jobs and the amount of applications we received because of it is great.

Eteach provided us with a very successful Headteacher recruitment campaign which was both cost and time effective. The adverts was quick and easy to set up with full support and advice given. To ensure our vacancy was viewed as widely as possible, they promoted it using targeted emails, social media, an advert on eteach.com and featured job slots on their candidate emails, which resulted in several applications. The Eteach staff were very helpful and friendly - We had several candidates visit the school and I'm pleased to say we have successfully appointed a new Headteacher.

I began using Eteach as of the 2017-18 Academic year when taking over the duties of daily cover within school. Since the start of the year I have gradually increased the use of Eteach to cover our needs for both short and longer term placements.
I am pleased to have Alison Stephenson as a direct contact within Eteach whom has taken the time to understand our school context and needs, whilst also understanding the high expectations we have of supply teachers. I am pleased with the quality of individuals supplied to us, who are reliable and punctual in their attendance and have been effective in carrying out the day to day tasks in a professional manner. Where concerns have arose, Alison has been very quick to respond and improve the service provided.

Charlotte is extremely responsive to our needs and seeks to understand clearly what the role I require cover for, or appointment for, actually entails. Her communication is timely and efficient.
Charlotte asks questions and provides feedback about prospective teachers. She works hard to understand my school setting. When I have had to feedback messages about staff which are difficult, she listens and takes on board the comments made. Charlotte is friendly, approachable and open. She is easy to talk to yet professional in her manner, making recruitment feel like a joint task. I would always recommend Charlotte and usually specifically request her when I call Eteach.

Eteach and School Recruiter has given us a platform where we can advertise for a wide variety of roles on a regular basis. We link our own School website up to our Career Site, which not only saves us time when placing adverts, but provides a 'shop window' for candidates when browsing potential vacancies. Candidates can find out more about Kent College, as well as apply for roles all from one system. Each candidate is tracked with a source, this enables us to report on our recruitment spend and review which job boards work best for us. The added addition of the School Recruiter Applicant Tracking system has also allowed us to streamline our recruitment processes in certain areas and attract a strong field of experienced and well-qualified applicants. This is complemented by the support we receive from the 'Eteach' team with reference to advice and guidance on how the site can be best utilised.

Prior to moving to your software we were using the TES Hirewire system, which we were finding more and more frustrating due to limited functionality and compatibility with modern mobile technology. I found the migration to SchoolRecruiter fairly simple, the training and support given by the team was good and it gave us a much needed boost in functionality. We did consider other standalone applicant tracking systems but at c£10k per annum prior to buying any advertising credits these were discounted as poor value for money.
We are really happy with the service we are getting from FEjobs and the functionality offered by SchoolRecruiter. It integrates nicely with our website and incorporates our branding. I'm not going to say it's revolutionised our recruitment process but it certainly has helped to make things flow better. Recruiting staff (non-hr) like using it as well, which is a bonus.

I am very passionate about the great work you all do at Eteach to make the recruitment process easy, efficient and reliable for all our schools. We have had such success from using your platform to hold a careers page and advertise our vacancies. I would easily and without hesitation recommend the service that Eteach provide for my schools.

The appointment of good teachers and leaders is the key factor in the success of any school and has proved to be the case here; the support of Eteach has allowed us to find the best people to enhance the life chances of young people at Mary Immaculate High School.

Having recently unsuccessfully tried to recruit with a local recruitment platform for 2 posts within our school, we decided to contact Eteach and subscribe to their services. From the initial phone call, to the ongoing support and the final advert going live - the whole of the Eteach team, especially Abbie, our personal support member, the customer service and advice has been greatly appreciated.
After setting up our school page and designing the personalised advert, we had 34 strong applications - all with a vast range of experience and the skill sets to match our requirements. The shortlisting process was tricky due to the high calibre of candidates who applied but we finally successfully recruited 2 new employees who will add depth and strength to our team. We would highly recommend Eteach to anyone looking to recruit within the education sector. Also, with the talent pool section we can continue to attract interest in our school and in time, make the whole recruitment process easier. The tracking and analysis at each stage of the process also proved invaluable to monitor the effectiveness of our decision to subscribe to Eteach. Thank you for all your support, advice and guidance.

Given the competitive nature of appointing high quality school staff it is vital the Trust are able to rely on a recruitment service which offers value for money as well as maximising opportunities to appoint exceptional staff. The number of recruitment options Eteach offers to increase exposure of vacancies is invaluable including the talent pool and dedicated school site pages. In particular the support and options they gave for the recent Recruitment Fair run by the Trust and Teaching School Alliance was very impressive.

We have been able to recruit at speed and have had a wide range of good quality applicants. It has given us more control over our recruitment process, and we have found it to be extremely good "value for money." A really good service which supports proactive recruitment.

The ATS system with Eteach is really good as it helps us keep everything organised and contact candidates easily. Since advertising with Eteach we haven't had to re-advertise any positions as we have found a candidate for all of them

We always use Eteach for all our job vacancies – it is so easy to use and I know that the advert will be seen by lots of prospective candidates!

I think, for me, the thing I would say I like most about Eteach – aside from the fact that we get a good level of response – would be the personal and fast service from one dedicated person. It's always nice to be able to email just the one person for help and build a relationship.

The Eteach Talent Pool has changed our thinking about how we go about recruiting. We can now engage in conversations with potential recruits at an earlier stage and have recruited several teachers far more efficiently than we would have done previously. It benefits us by having a list of suitable candidates already with application forms submitted when a vacancy arises. However it's also great for teachers looking for a move to a school such as Greenways as it means that they are immediately notified when a job becomes available. This can significantly shorten the time it takes from start to finish and this is particularly important when resignation deadlines are approaching. Given that we strongly encourage teachers to visit our school before they submit an application it gives both parties to make an establish a dialogue at a far earlier stage and in a far more relaxed manner than would normally be the case.
We look forward to working further with Eteach to develop our marketing strategy in relation to our Talent Pools.

We have been working alongside Eteach since 2013 advertising a variety of vacancies, including those roles that are, at times, difficult to fill. We find the site easy to use, and like the professional appearance of the integration of our Eteach career site with our own website.
In addition, the cost effectiveness of the licence compared to competitors does not restrict the number or quality of applicants we receive through them. Our Customer Success Manager is always on hand as and when we need it, offering fantastic support and service.

Eteach are fantastic at meeting our supply needs as a large secondary school. They respond very quickly to requests, provide accurate invoices but above all provide high quality staff. The Eteach team have been friendly, flexible and experienced.

We have used Eteach for many years at Manorcroft School to cover our supply requirements. All the staff are very helpful and efficient and we are happy with the service we receive.

I have been delighted with the support and services from Eteach, I have always found them to be honest, transparent and excellent in their communications. I would have no hesitation in recommending Eteach to other schools, they have been superb in all respects. As a school we are looking to work with a teacher recruitment agency that takes the time to understand our needs and filters through potential applications. By doing so they are then in the best position to provide appropriate matches, both for the school and for the candidate. This not only improves the chances of success of a placement, but also avoids wasting the time of all parties.

Using Eteach, we saw a 75% reduction in spend on recruitment advertising vs the prior year.
Our goals were to improve the quality of hire. We also wanted to create attractive, rich format careers portals for each school & nursery and it was important that we created a great candidate experience and a great recruiting manager experience.
Our candidate quality through Eteach has improved all round. We posted 62 vacancies across 4 schools and 4 nurseries and successfully made offers to 95% of these vacancies before end of February.
We found that Eteach School Recruiter gave us superior web portals as well as the subscription for totally unlimited amounts of adverts as standard. The implementation was very simple.
We have also made use of the ability to promote vacancies in our more challenging recruitment locations such as Abu Dhabi and Oman to candidates responding to an ad for one school such as Repton in Dubai.
In addition to this, our quality control has been significantly improved. Because of School Recruiter's insightful reporting suite, we have easily identified and improved upon any flaws in our hiring practice. For example, we needed to identify the ROI of advertising from various sources based on candidate visits, application numbers and candidate quality and the Eteach ATS (School Recruiter) is ideal for this.

At Howell's, we have a reputation for excellence, and to maintain that we need to be able to attract the very best applicants to all our vacancies. With Eteach, we know that we will receive a high number of outstanding applications for all our academic and school staff positions, without having to place multiple, costly job ads online and in print. We have used Eteach for many years and are delighted with their service!

I am always singing your praises whenever we have networking opportunities. Recruitment can be such a struggle, we find it so much better, easier and have a much better response rate since we have been using your services.

I am very grateful for the support of Rebecca Teji and the whole team at Eteach for the support they were able to offer in recruiting a high-calibre candidate for a teaching vacancy. I was initially very sceptical about being able to fill the role during the current lockdown; however I made a casual enquiry to Rebecca after seeing a CV for a promising candidate and within days I had shortlisted three excellent candidates (all through Eteach) and held comprehensive video interviews with all three. Rebecca was able to provide additional references and facilitated telephone conversations with previous employers, which really helped to give me confidence in the applicants suitability. This was particularly important considering panel interviews and lesson observations had to be ruled out.
At all points in the process Rebecca went over and above to ensure that we were able to complete due diligence. There was never a sense of a 'hard-sell', which was particularly appreciated considering the extra time needed to complete all checks and liaise with all stakeholders (HR, governors etc).
Many thanks for providing such an efficient service that has resulted in a very positive outcome. I would be very happy to use Eteach again and to recommend them to other headteachers.

We have been using Eteach successfully as a multi academy trust for a number of years. The product has been continually improved with additional functionality supporting the experience of the applicant and ourselves as HR professionals. Their internet presence always delivers candidate generation to fulfil our vacancies in a timely and professional manner. The account management is excellent with a continuous dialogue for feedback and support backed up by a very stable product. I would highly recommend Eteach.

Eteach is a "one-stop" shop and a relatively, quick, easy, prompt and efficient method of advertising staff vacancies, but most importantly is also very cost effective. We have saved ourselves many thousands of pounds in the cost of staff advertising over the past 2 years.

The service is so easy to use, I no longer panic when I have to place a job advert!

We use Eteach for all of our vacancies and use the embedded link facility on our website, which means that as soon as we place the advert on Eteach our web site vacancy page is up to date. Using Eteach means that we rarely have to pay to advertise our vacancies elsewhere.

We have been using eteach.com for many years, it has proved to be a cost effective and time efficient recruiting tool which links directly to our school website and recruitment page. Eteach.com is straightforward to use and there is always someone you can contact with questions and queries.

I would like to thank Eteach for helping us appoint an experienced School Business Manager. The process took us longer than we expected as it's not an easy post to fill, but we are delighted with the outcome! Eteach supported us throughout; Karen was always at the end of the 'phone or just an email away to advise or follow up any queries, and nothing was ever too much trouble! Being able to re-advertise a position at no additional cost is obviously a huge advantage in having a licence. I would definitely recommend Eteach to other schools.

We deliver a recruitment service to schools across two Local Authorities in partnership with Eteach. We attend local NQT recruitment fairs each year and those NQT's who express an interest in working at our schools are given details of how to apply to our NQT talent pools via Eteach. This year there have been around 70 applicants for each Local Authority.

We have nothing but praise for Eteach; it has made our whole recruitment process so much sleeker this year. I am so glad we signed up!

From an administrative point of view, prior to using Eteach's School Recruiter ATS, our school's recruitment process was very time consuming, involved copious amounts of paperwork and had little or no structure to the application process. Prospective candidates were unclear how to approach the school with CV's of interest, increasing the risk of losing good candidates.
Now when we have a vacancy, School Recruiter publishes the advert with multiple agencies as requested by the school, reducing the amount of time previously spent placing adverts separately and significantly reducing the amount of paperwork involved.
Communication to groups of candidates via bulk emails is another example of how much time can be saved. All information is transparent so, at any time during the recruitment process, line managers can view and review candidates, recording relevant comments against their profile, making shortlisting easy. There is a structure to the process which is very user friendly but can be adapted to your own school requirements. The Talent Pools are a perfect way for prospective candidates to upload their CV's, giving the school a preview of any potentially strong candidates. School Recruiter deal with any queries quickly and efficiently providing support to candidates as well as schools.

Our school has built a positive working relationship with the recruitment consultants at Eteach. As a recruitment service they have a good understanding of educational requirements. They have a personalised approach so you always know who to contact. Most importantly to us finding the right candidates, Charlotte is always willing to listen and respond to the needs of the school. Eteach works hard to find us the right people and there is never any pressure to see candidates that might not be exactly what you are looking for. Lines of communication are excellent and Eteach are always quick to respond to our needs and enquiries.

I have worked with Charlotte at Eteach over the past year and have always found her very efficient, having had her own children attending Collingwood College she had a deeper understanding of our needs and I believe she has provided us an excellent service. We have great working relationship and she is my first point of call for finding the right candidate.

We have been users of Eteach for a number of years and have been pleased with the excellent service we receive from Eteach. We are successful in appointing the right sort of candidates in both support and academia roles for the school

The account management provided by Eteach is second to none. Adverts are added to the website without delay and queries are responded to quickly. It's service with a smile, on time, every time.

We have been using Eteach for our recruitment advertising for several years now, but about two years ago we introduced School Recruiter as the portal for advertising our vacancies.
The whole process of advertising jobs for our Academy has been made so much easier. I simply post the advert on the School Recruiter site and indicate where we want to advertise the vacancy. The fantastic staff at Eteach then do the rest for me.
Following the initial training, where two members of staff visited the Academy to provide me with training, I have found the site very easy to use. When applications arrive in the portal, I can acknowledge receipt and correspond with the applicant very easily.
I can allocate members of staff to join the recruitment team so that they can also monitor the applications as they arrive. The drag and drop facility allows me to manage every step of the recruitment process from applied through to hiring.
Ben and Laura from School Recruiter/Eteach are fantastic and very knowledgeable and extremely helpful and are always on hand to help with any queries. Their response time is second to none.
I am grateful to be able to use School Recruiter and Eteach to advertise our vacancies at St Augustine Academy.

We have been happy with the service we have received from Eteach and have renewed for a second year. The calibre of candidates has been strong and the solution has been cost effective thus far.

On behalf of WAB (Western Academy of Beijing) Recruiting Team, I would like to share that we have been extremely satisfied with the recruiting platform provided by Eteach. This is our 3rd year using Eteach. This year Eteach has upgraded the system with some new features. Our Customer Success Manager, Zara, has been truly helpful guiding us through the new features. We appreciate her patience to listening to our feedback, providing informative answers to our questions. We also appreciate the flexibility and willingness of their IT team on further developing the system to meet our needs. It is a pleasure to work with Eteach and WAB looks forward to continuing this relationship.

We've been using the Eteach platform, School Recruiter, for our recruitment needs for a number of years and it suits us perfectly. From the ease of advertising, tracking applicants and arranging interviews, the user-friendly format has streamlined our processes greatly and is backed up by a responsive support team. Our recruitment team can identify and manage candidates via a recruiting dashboard, and communicate easily with candidates throughout the whole process.
Jonathan Price has fully supported us throughout and his professionalism and knowledge has been invaluable in helping us secure candidates who are the perfect fit for our team, particularly with specialist roles. Jonathan is always available to provide help and support to ensure we attract high calibre candidates and we value our partnership greatly.