Recruiting? Post a vacancy

INSTANT JOB ADVERT

Post your vacancy on the UK's leading education job site and start receiving applications today!

Post a vacancy

RECRUITMENT SOLUTIONS

Want to know more about our recruitment solutions for schools?

Recruit with Eteach

WE'LL DO IT FOR YOU

Free advertising! Pay per candidate placed and only pay on success.

Call us: 0845 226 1906
Academies
What is an academy and why is it a good place to teach?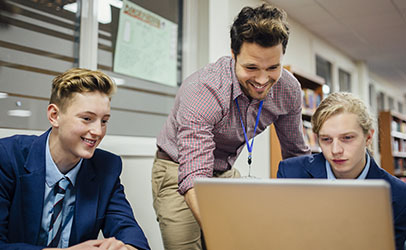 What is an academy?
For teachers, academies typically claim to encourage more artistic freedom in the job role and an environment where innovation is encouraged without the red-tape of local authority governance. 
Academies are state-funded schools which are not maintained by local authorities. There are currently over 600 academies in England and more than 450 schools are in the process of converting right now!
Why consider teaching in an academy?
When a school gains academy status, they gain control over the pay, conditions of staff and what they teach and are also freed from implementing time-consuming local authority initiatives. This means you are free to explore innovative approaches to management, governance, teaching and the curriculum to improve the quality of the school in question. 
An academy can be set up through sponsors from businesses, charities, local authorities or voluntary groups working in partnership with the Department for Education (DfE) and claim per-head funding for each pupil as well as other grants.  Academies have: 
freedom from local authority (LA) control
the ability to set their own pay and conditions for staff
freedoms around the delivery of the curriculum
the ability to change the length of terms and school days
How do they compare?
For leadership and management, Ofsted has judged one third of academies to be outstanding and over 90% to be good or better.
The National Audit Office concludes that GCSE performance in academies is substantially better than in other schools.
 PricewaterhouseCoopers concludes standards in academies are rising at a faster rate than the national average.
Sound interesting? Start your job search today! 

TOP