Nationally and historically, in PE, student's written responses to extended/synoptic questions have often been at or below 50%.
At the end of academic year 2017/18 I set my department the challenge to enhance student's ability to interpret and execute all extended questions to a better standard across all three components, i.e. raising the bar.
Find your next PE teaching role here.
Our aims
The A-Level PE course is split between the following components (excluding the practical component) with the amount of marks available for synoptic questions from academic year 2017/18.
Anatomy and Physiology (20 marks available) – National Average = 8.8 marks
Skill Acquisition and Psychology (10 Marks available) – National Average = 4.8 marks
Socio-Cultural and Historical Studies (10 Marks available) – National Average = 5 marks
My focus for the department, in order to improve students writing skills, was to develop a unified department revision proforma and to develop a more appropriate feedback and marking policy which is in line with our exam boards (Edexcel) marking policy. My aim for the department was to provide students with the necessary skills in order to achieve 50% or above within each synoptic question, thus impacting more positively on this year's set of results.
Low cost resources only
Given the financial constraints most schools are now up against, I focused on adopting methods from the Education, Endowment and Foundation Toolkit (EEF Toolkit) to alleviate the burden on the department/school budget. My main focus to enhance pupil performance was focused on homework/home-learning, meta-cognition, peer tutoring and feedback. All four areas are low cost with medium/high gain.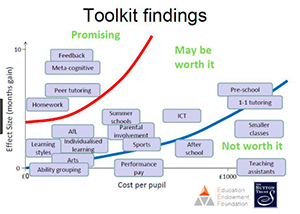 1. Empower students to thoroughly control the marking
Developing a unified department revision policy, updating our marking and feedback policy and setting extended questions as the only home learning tasks were all initiatives that were deemed the most important to adapt in order to reach student's true potential. The new and improved marking and feedback policy was introduced to work concurrently with both the departments and exam board's extended question mark schemes. Enabling students to peer assess and understanding exactly how the exam board marks each question had extremely positive results. Students were able to understand where they needed to develop but also where they picked up marks and why. Within PE, students accessing marks for AO3 (evaluation and analysis) is where we find the problem lies. By having a transparent marking and feedback policy which matches that of the exam boards, we found is hugely beneficial in bridging this gap.
2. Empower them to understand the test questions
Creating a unified revision policy for a department and its staff to implement is a contributing factor to our student's success in developing their extended writing skills. Developing students' knowledge of command words and how to unpick a question is vitally important in order for students to decide what information and knowledge is required to answer the question correctly. Revision strategies implemented into lessons throughout the course is hugely important as it enables students to practice techniques and develop their skills as the course progresses. Many establishments use revision techniques close to the summer exams and cramming information is seen as poor practice within recent literature. Thus, having a clear revision policy that can be introduced in small chucks throughout the course has been beneficial in enhancing student's ability to perform well within extended questions.  
3. Hone their quick recall skills
Finally, as recent literature has also suggested, having frequent recall testing within lessons has helped to secure students' knowledge and as a result if this, all home learning would then be extended questions. The key component of extended questions from our point if view was to enable a number of things.
1 – Enable students to peer mark and have access to mark schemes.
2 – If students fall below 50% or 2 marks below their MEG (depending on each student) then students would have to re-write their answer again. Of course, the marking and feedback policy would help to guide all students on how to improve their answer.
3 – Each extended question started as an open book but of course, as the years progress staff can choose to adapt the way they set the tasks and potentially bring it into the class room as a timed task.  
Our results
A focus on improving and developing the way students answer extended questions has increased student performance and class results. Within 4 extended questions for the Socio-cultural component of the course, the average class score was 6 marks, which is an increase of 1 mark compared to the National Average. An average class improvement by 1 mark is extremely positive. Not only that, a focus on extended questions seems to have improved the quality of written response to section B which are normally 4/5/6-mark questions on the socio-cultural component of the course. Student's writing is more concise and their understanding of the command words has helped their understanding of what the question is asking.  
Results from 2019
| | | | |
| --- | --- | --- | --- |
|   | 01 – 90 marks (A&P) | 02 – 60 marks (Skill Aqu & Psychology) | 03 – 60 marks (Socio-Cultural) |
| Average Score | 61 (67%) A | 34 (56%) C | 28 (46%) C |
Results from 2018
| | | | |
| --- | --- | --- | --- |
| Name | 01 – 90 marks (Phys) | 02 – 60 marks (Psych) | 03 – 60 marks (Socio-Cultural) |
| Average Score | 41(45%) (D) | 24 (40%) (E) | 24 (40%) (D) |
The outcomes of this particular cohort who have recently sat their A-Level exams this year (summer 2019) have been interesting and encouraging, some students really have developed their extended writing skills, while others still find it a challenge. What is evident however, is our emphasis on developing students extended writing skills in fact helped students to develop other areas of the paper(s). As you can see from the results above, we have seen a dramatic rise in the average marks gained in each component compared with 2018, especially in Anatomy & Physiology. Finally, there is much more to analyse and much more teaching staff can do in order to support extending writing skills for their students but for now, the success, as small as they are in small case but larger in others, certainly outweigh the negatives.
Search all of our PE teaching roles here.
About the author
Gareth Barton
Gareth is a PE Teacher who has worked in the profession for 13 years across 5 diverse schools. Having taught in state schools and the private sector, Gareth now teaches in an over-subscribed Catholic School in Stoke. Recently, he has gained his NPQML to top off numerous other qualifications that he has gained during his teaching career. Gareth has begun to blog about some of the initiatives that he has successfully implemented and hopes to have an influence over your teaching strategies to improve the experiences of young people in education.