To land a good teaching role with a leading establishment, you need a strong CV that catches the eye of recruiters and persuades employers to invite you through to interview stage. Not only should your CV look flawlessly professional and provide a pleasant reading experience, it should also demonstrate your ability to teach effectively and help your students get the results they need.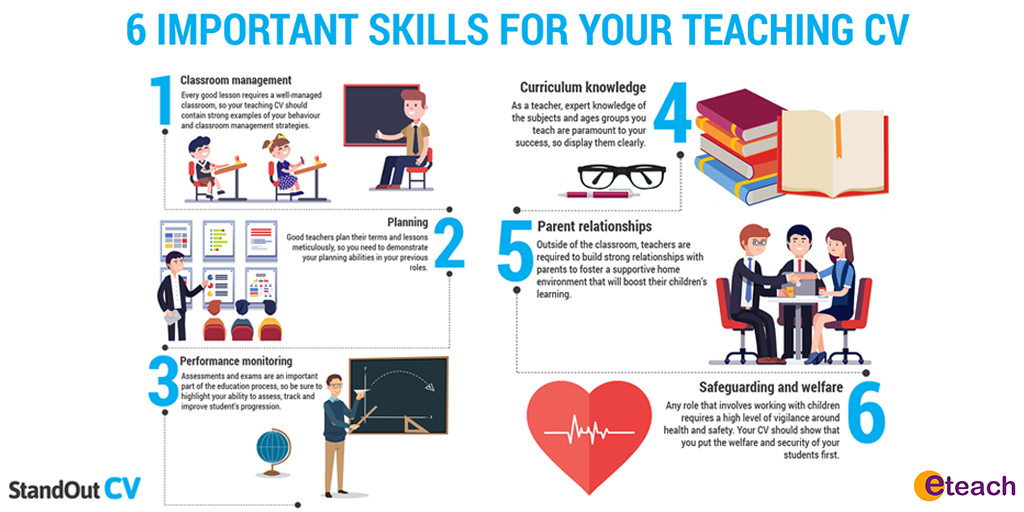 This helpful infographic from CV writing service StandOut CV shows you the 6 essential skills that should feature in your CV if you want to land interviews for the best teaching roles out there.
Classroom management is crucial to any teaching position, as learning relies on well behaved students who are fully engaged, so be sure to feature it in your CV role descriptions. Planning and performance monitoring are also vital to ensure that students not only have rigours structure to their development, but are also regularly assessed to monitor and adjust their progress. Your curriculum and subject knowledge will play a crucial role throughout your CV as employers will want to know exactly what subjects and age groups you are comfortable teaching. Two areas that are often overlooked in teacher's CVs are parent relationships and student safeguarding – be sure to provide examples of these to show that you are a well-rounded candidate with skills in and outside of the classroom.
About the author
Andrew Fennell is the founder of CV writing advice website StandOut CV – he is a former recruitment consultant and contributes careers advice to websites like Business Insider, The Guardian and FastCompany.