Continuous Candidate Engagement
The new academic year is approaching - and you need a full complement of staff to take the learning forward.
Yet good teachers are in short supply and competition for them is fierce. It's costly to advertise by traditional means to reach job-seeking teachers, and relying on agencies can be even more expensive.
But it doesn't need to be that way! Thousands of schools have discovered the benefits of using eteach.com this year - significantly increasing their flow of relevant applications while dramatically cutting their annual recruitment spend. How?
CCE is what we have nicknamed our revolutionary strategy for schools and colleges to nurture the talent pipeline you need… and recruit relevant staff quickly and at a much lower cost.
School Recruitment Has Changed
Can you keep up? Eight developments in the last decade have changed school recruitment for good:
Candidates are better informed and very well connected. Your school's brand reputation matters and, more importantly, your lack of reputation makes you invisible.
The teacher talent pool is more squeezed than ever. Teacher count is stagnating at 10% in and out while pupil numbers are increasing by more than 20% by 2025. Unemployment is low and other industries are offering high salaries for STEM subject specialists.
Teachers are increasingly the new generation X and millennials. A quarter are now under 30 while NAHT report that the 50+ bracket has fallen by 6% to 15.6% since 2010. Millennials shop online, source dates on line and shop for career moves online. Are they finding you there easily?
Social media builds brands and bridges, fast. LinkedIn and Facebook present to education professionals in their free time when they are open to ideas. Instagram is where to tap into lifestyle aspirations. Agencies are great at this.
Teachers are no longer categorised as 'passive' (employed) or 'active' (seeking). Their constant exposure to career opportunities via social media mean they can also be actively applying, casually browsing or comfortable but open to offers. Is your employer brand registering in their psyche?
50% of job seekers visiting our site do so on their mobiles. Only schools offering a mobile-optimised ads and mobile application methods can compete.
Teaching careers are geographically fluid. When salaries are fixed, teachers are looking for better workload attitudes. They'll move schools or even countries to achieve it. Each year, over 15,000 teachers move to teach outside of the UK in search of a better lifestyle.
Flexible working has opened the door for women. And they're walking out of it. Other industries have embraced job sharing and flexible working afforded by cloud-based As a result, mum returners have other career choices and low loyalty after surviving the paltry maternity terms of teaching.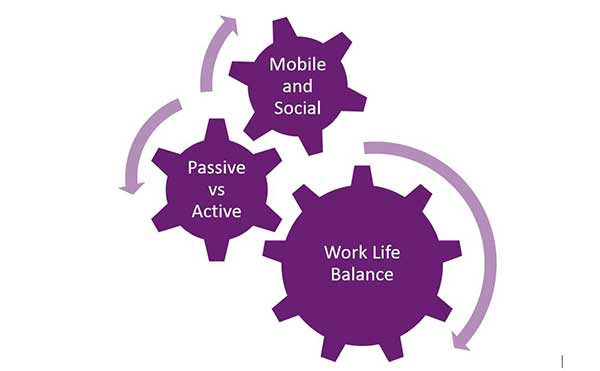 As a school, you now need to entirely change your approach to school recruitment to successfully compete for teaching talent.
70% of your school costs are staff, so it stands to reason this is where your biggest savings can be made.
A New Way - Recruit a Teaching Workforce that Lasts
What you need now is a strategy and a few simple tools to create and grow your own teacher community with whom you engage earlier, more often and continuously, to nurture the talent pipeline you need and recruit for your school. This is Continuous Candidate Engagement.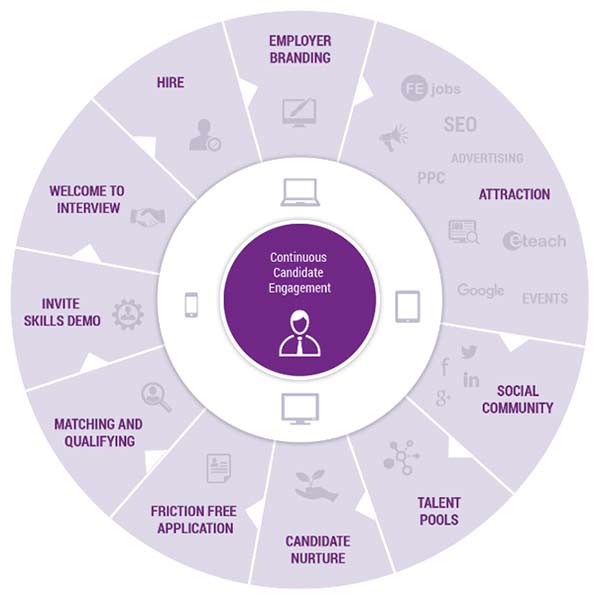 Approaching recruitment this way allows you to totally flip the flow of talent into your school. Instead of recruiting reactively from a limited pool of candidates when a vacancy arises, you are creating a year-round attraction campaign that organically attracts the right candidates to register their interest in working for your brand.
What you need is Continuous Candidate Engagement.
This will help you cultivate a community of teaching talent – proactively advertising year-round to create then continuously nurture the candidates in a Talent Pool, sometimes for years, forming a community of talent for your school which actually increases in value over time.
You can learn how to:
Widen your net: market your school employer brand in more places so that your brand is present in the mind of great teachers before they know they are looking. Our career site are designed for this.
Be the school that's easy to apply to! Break down the barriers to teacher engagement by replacing long downloadable application forms with online forms and instantly-populating online profile-builders.
Take advantage of free and cheap technology to take back control and cut out that nasty habit of constantly falling back on expensive agencies and calling it a recruitment strategy!
For the step by step guide on how to implement Continuous Candidate Engagement simply and at no additional cost to your school (and find out how this will actually end up saving you money!) download the free Eteach guide to Continuous Candidate Engagement here.
About the author
Katie Newell
Katie Newell BA(Hons) PGCE is an ex-primary school teacher, Head of Maths, Head of Year five and languages specialist. Katie qualified in Psychology at Liverpool then specialised in Primary Languages for her PGCE at Reading. Before teaching, Katie was a financial commentator and is now the Content Manager for eteach.com and fejobs.com. Katie feels passionately that teachers are the unsung heroes of society; that opening minds to creative timetabling could revolutionise keeping women in teaching, and that a total change to pupil feedback is the key to solving the work life balance issue for the best job in the world.