David Simmons, pupil at Pontarddulais Comprehensive School achieves 100% attendance from age 3-18
Congratulations to David Simmons, the pupil who has achieved an incredible 100% attendance at school from age 3-18 and Pontarddulais Comprehensive School.
To celebrate, the education recruitment specialists Eteach have arranged for David and a friend to get the full VIP treatment for the home game at Swansea City FC on August 11th  to recognise his achievement, and by chance, David's birthday.
Jan Waldron MBE, Welsh Government Headteacher of the Year for 2018, started her headship at Pontarddulais on the same day as David began as a pupil there.
She comments:
"What a remarkable achievement for David. 100% attendance in his whole school life.  David is an incredibly hard worker who always tries to do his best.  He is very loyal to the staff at Pontarddulais Comprehensive School and he even returns in his holidays to help out."
Ms Waldron said David would be an asset to any employer.
"He will be an asset in the work place and any business which is lucky enough to employ him will benefit greatly from his incredible work ethic."
Rod Bowen, Director at Eteach, comments:
"David's record is outstanding and it is a privilege to help the school to recognise his hard work and dedication.  I'm sure he will enjoy the day and wish him Happy Birthday and good luck for the future."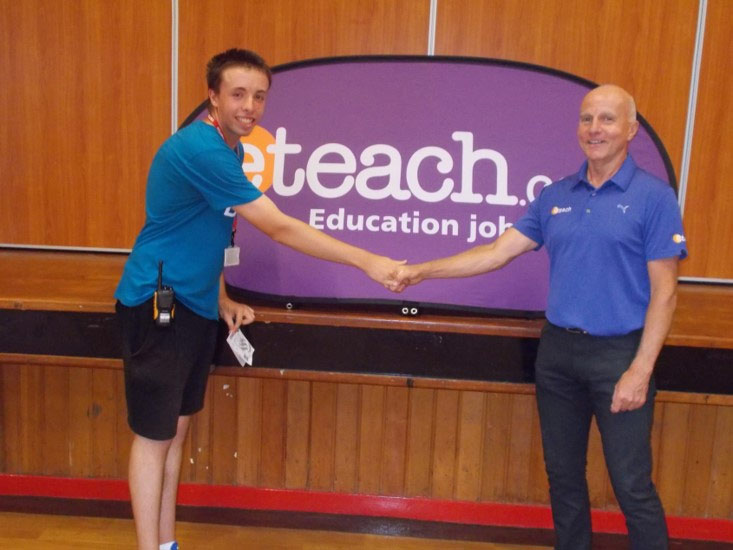 About the author
Robin Hughes
Robin has been a school governor for over ten years and is bilingual, Welsh and English. Before becoming a consultant and working with a number of private and public sector educational organisations, Robin had stakeholder management roles in an examination board and was the Wales Secretary for ASCL, a body that represents over 16,000 senior school leaders.