Frequently Asked Questions for Jobseekers
Odds are, we have the answer!
What can I do with my Eteach account?
With your Eteach account, you can browse education roles in the UK and beyond, build your jobseeker profile, apply for jobs, and receive notifications about the latest education vacancies.
How do I create my jobseeker profile?
Creating a profile with Eteach means you can apply to jobs easily, from anywhere. After uploading your CV on your candidate dashboard, our profile builder will automatically pull your CV information across to populate your jobseeker profile, which will be displayed in orange. This information can be amended by visiting the 'Edit Profile' tab at the top of your candidate dashboard.
Include information such as your desired subject, phase, location and other job preferences.
Make sure your profile is kept up to date, as this is used to automatically fill online application forms if schools offer it. Your CV will also be visible to our recruitment team to help support your job search with relevant opportunities.
How do I upload, amend, or delete my CV?
Log in using your details and navigate to your candidate dashboard. On the left-hand side, you'll see a button that says 'Upload a new CV/resume'; click this to upload your CV.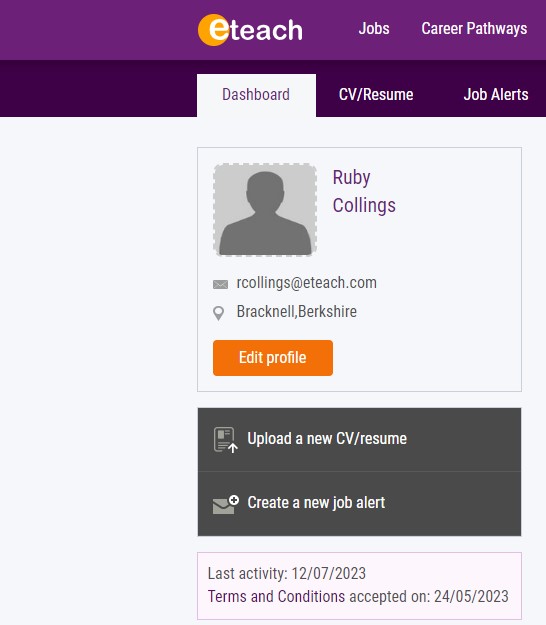 Once uploaded, to view your current CV, you can click the 'eye' icon, and to upload a new CV you can click the second 'refresh' icon. You cannot amend a CV that you've uploaded, so to change this you must upload a new CV.
If your new CV isn't displaying, delete your browsing history – including cached files – and sign in again.
How can I set up or edit my job alerts?
Set up job alerts by completing a search on our job board. When your results appear, you'll have the option to create job alerts by clicking the 'Get job alerts' button in the top-right corner, which will allow you to receive emails notifying you of new roles that have matched your search criteria.
You can view and edit your job alerts on your candidate dashboard, using the 'Create a new job alert' button on the left-hand side or by using the 'Job alerts' tab along the top of the page.
How can I log in or reset my login details?
Log in to your account by clicking on 'Sign in' in the top-right corner, using your email address and password that you registered with. If you've registered, you should have received an email from us confirming this. If you've forgotten your password, please follow the password reset process by clicking 'Forgotten password?' at the sign-in page, then following the instructions to receive a password reset link.
If you've forgotten the email address you used to log in with, get in touch with our Support Team on 0845 226 1906 who will be happy to help.
Why am I getting an error message when I try to register with Eteach?
You may have registered with us in the past if you are getting the error message: 'This email address has already been registered. Please sign in or reset your password.'

You can either follow the password reset process, use an alternative email address to register, or if you'd like to use your old account, please call our Support Team on 0845 226 1906 who can help you find your login details.
How do I search for jobs?
Carry out a search by specifying a subject (e.g., History), type of role (e.g., teaching), or a cluster name (e.g., Bracknell Forest Council) into the first search field on our homepage. You can either specify a location in the second search field or click the target icon to use your current location to filter your results further. Additionally, once you've input your search terms into the main search bar, there are filter options for full- or part-time work, remote working, and other criteria that you can select to narrow down your results even more.
From our homepage, you can also directly browse the categories of trending jobs and jobs by role, location, subject or phase. Clicking on one of the further categories will automatically carry out a filtered job search with the selected criteria.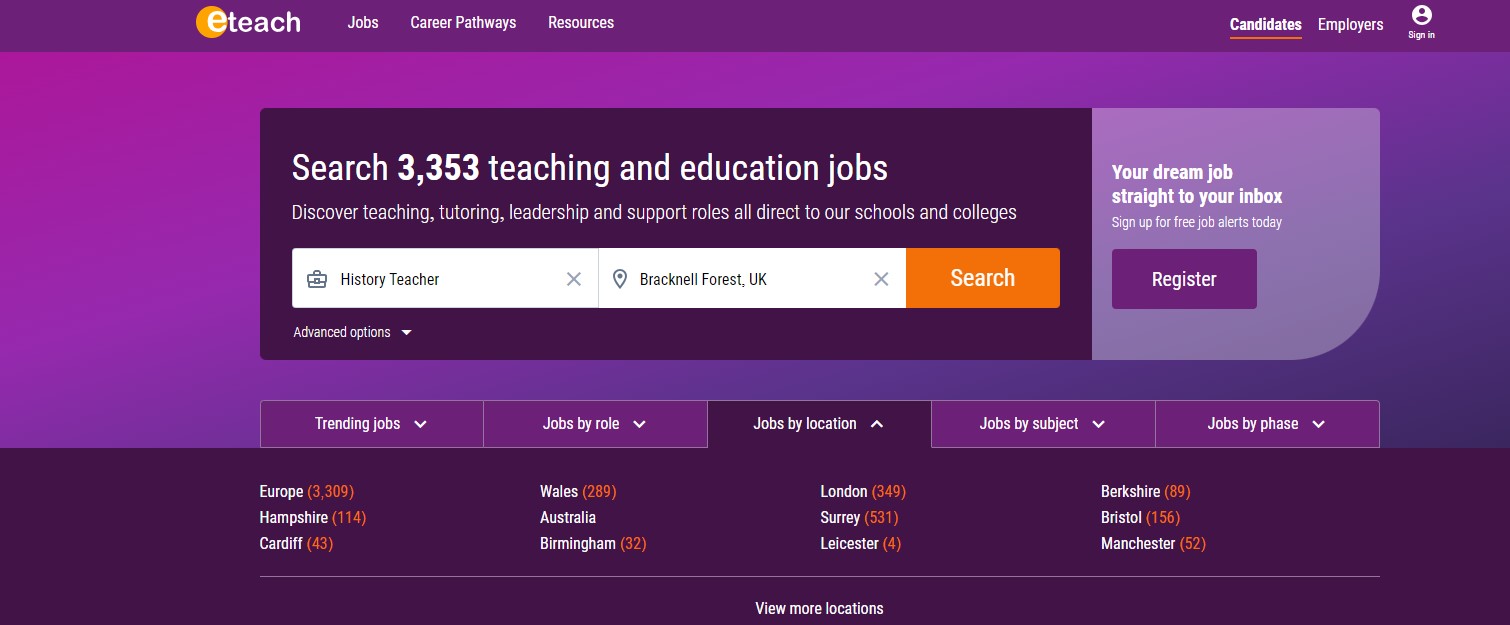 How do I carry out an advanced search?
To carry out an advanced search, select 'Advanced options' which appears below the main search field on our homepage. Here, you will see options for filtering by distance, Career group, subject and phase – with the ability to toggle on Fast Apply jobs only. Filtering by distance is only available when entering a location in the second search field.

How do I change the location on my job search?
To edit the location of your job search, click on the main search bar at the top of the page to open the location field. Simply remove the current location, enter a new one and click the search icon to begin a new search with a different location.
What are Talent Pools and how do I join them?
Talent Pools are a way to show your interest in working for a specific school or region – which lets schools know to get in touch if they have a suitable role for you. Your CV and contact details will be visible only to the schools or regions that you've specified.
To join a Talent Pool, simply search for a school or region that you're interested in working with, visit their Career Site, and click the 'Join Talent Pool' button.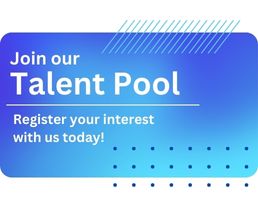 Alternatively, you can also join Talent Pools using the dedicated tab at the top of your candidate dashboard within your Eteach account. You can view the Talent Pools you've joined on your candidate dashboard under 'Talent Pools'.
Can I edit or delete a completed job application?
Once you have submitted a job application, you will not be able to amend or delete it as it will have been sent through to the school. If the situation is urgent, we recommend getting in touch with the school directly to explain.
Where can I view my previous job applications?
You can view your previous applications by visiting your dashboard, where they will be displayed under 'Recent Applications'. You can see all submissions by clicking 'View All'.
Why is my application history showing as incomplete?
If you've completed an application for a role that uses a different method which is directed away from Eteach – such as an email to the school – we're unable to track the external actions of your application, which means your application history may show as incomplete.
Why are my other documents not displaying on my application history?
Your application history will only display your application form, and not any additional uploaded documents.
What qualifications do I need to begin a career in education?
You can discover more about specific qualifications you need to begin your teaching career in our Routes into Teaching guide
here
. If you're looking to get into teaching for a specific phase, we have advice and guidance in our blogs covering routes into
primary
,
secondary
, and
UK
teaching. You can also read our FAQs about international teaching
here
.
What other career paths are available via Eteach?
We've got plenty of educational opportunities which differ from traditional teaching. If you'd like to find out more about tutoring, our sister company
Education Boutique
are happy to help, providing face-to-face and online tutoring roles.
If you're looking to take the next step in your career, you can also enquire about becoming an
Eteach Education Adviser
– joining our Register of Trusted Advisers, who offer expert services to empower schools.
Where can I find advice and support about my career in education?
No matter what stage your career is at, we have free resources to help. Our
CPD page
hosts valuable knowledge and resources covering everything from classroom advice to career coaching. We also have an
ECT Facebook community
for new educators to share their experiences and advice. Take a look at our
blog
for CV and interview tips and more.