Contact us: 0845 226 1906
The Proactive Approach to Recruitment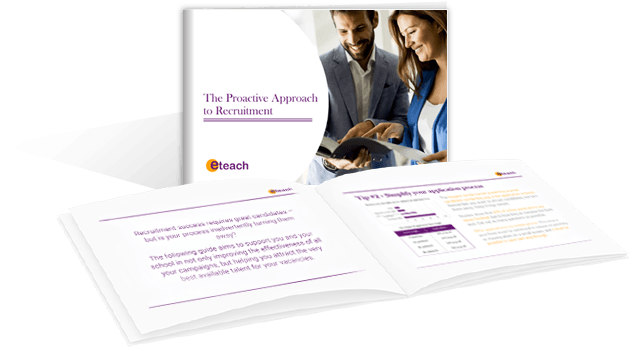 This guide will tell you:
How a proactive approach to recruitment will give you back control of your spend
How to market your 'employer brand' using a career page and talent pool
How to strategically harness social media to increase the reach of each advert
Why your lengthy hiring process results in a poorer quality workforce
How to identify which jobs need escalating – and how to make an impact quickly
The strategies and tools to put in place to get started with this year's proactive attraction campaign
Case studies: our schools that have used these methods and found significant savings (and great teachers!)
Download your free guide now
A little bit more about what you'll be reading...
The single change you need to make to take control of your budget and talent pipeline for good is to approach your recruitment with a proactive strategy.
Workforce planning is woefully underutilised in education sector and schools pay the price as cash flows away to unscheduled agency spend. But the cost runs deeper yet: by reacting only to urgent demand, you gamble the quality of teachers available at the time and pressure the existing workforce.
It's time to turn the tables on teacher recruitment. Proactive recruitment marketing puts you in control. By actively marketing your school and vacancies year-round, you are the driving force behind your recruitment. Instead of waiting to recruit on a 'firefighting' basis with limited time, you proactively cultivate a hub of talent to call upon at your discretion.