Contact us: 0845 226 1906
Building Your Employer Brand Online 2 - Career Site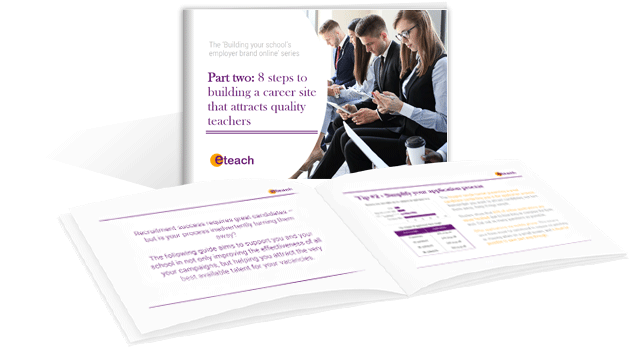 This guide will tell you:
How to adopt a revolutionary new strategy to recruitment
How to position and promote your school's Employee Value Proposition to potential candidates
Why you should proactively advertise year-round
Download your free guide now
A little bit more about what you'll be reading...
Ad-hoc recruiting is time sensitive and can be costly. As part of a modern approach to staffing, schools need to adopt a revolutionary new strategy to recruitment, starting with proactively advertising year-round and collecting a bank of teacher CVs to call upon as vacancies arise.
Launch your proactive recruitment strategy by creating your school career site to showcase your benefits and invite local, interested candidates to join your Talent Pool.
Recruiting is a two-way process and in this time of teacher shortages you need to sell candidates your school or college's Employee Value Proposition (EVP) as much as the candidate must sell you their skills. Your identity as a school must be prevalent long before you place a job advert online.
This step-by-step guide will walk you through how to attract and even retain teaching talent by using a career site to create a strong employer brand.