INSTANT JOB ADVERT

Post your vacancy on the UK's leading education job site and start receiving applications today!

Post a vacancy

RECRUITMENT SOLUTIONS

Want to know more about our recruitment solutions for schools?

Recruit with Eteach

WE'LL DO IT FOR YOU

Free advertising! Pay per candidate placed and only pay on success.

Call us: 0845 226 1906
Special needs teaching
What does it entail and how can you get into it? 
What does a Special Education Needs & Disabilities (SEND) teacher do?
Pupils in the SEND sector have wildly varying needs. As a teacher, you can choose whether to focus your career on assisting pupils with specific disabilities or leading classes whose students have a range of needs. SEND teachers may work with pupils with dyslexia or dyscalculia (similar to dyslexia but for numbers), autism, severe epilepsy, moderate, severe or profound learning difficulties, visual or hearing impairments, mobility problems, behavioural challenges or psychiatric problems. The qualifications for a SEND teacher depend on the particular needs of the pupils they wish to teach; for example, anyone who wants to teach pupils with hearing impairments will find that knowing sign language is important.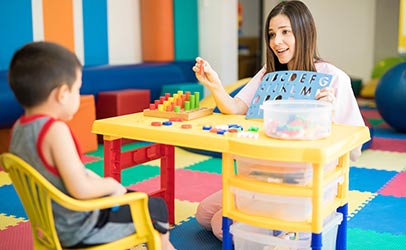 Your duties can vary considerably and may include:
preparing materials, equipment and lessons
assessing the individual learning needs of pupils
evaluating and reporting pupils' progress to teachers, carers and healthcare professionals
assisting with the personal care needs of pupils
coping with challenging behaviour and dealing with difficult situations
liaising with parents, carers and other professionals who work with the pupil
supervising activities such as trips locally or abroad.
Eteach has a range of SEND jobs available to candidates who want to work with pupils with special needs. For more information or questions, please feel free to contact us on 0845 226 1906 and the team will be happy to help.
Why choose SEND teaching?
Our SEND teachers tell us that the benefits of being a SEND teacher outweigh the challenges of the role.  As with other teaching jobs, the role of a SEND teacher means that no two days are ever the same; each day will vary, depending on the pupils and what they are being taught.
Very few careers provide the opportunity to help and support those who need it the most. SEND teachers play a vital part in helping to shape the future of a child's life and the satisfaction of this work is unlikely to be found in many other jobs. There can be a lot of time-consuming paperwork and marking, so the workload may be quite heavy. More SEND frequently asked questions
Could I become a SEND teacher?
Being a SEND teacher requires a lot of patience, the ability to cope with stress and work well under pressure. Working with children in general can be unpredictable and challenging at times, and this is certainly the case with children with special needs.  Any teacher can become a SEND teacher, but it's important to remember that you must:
have the ability to build up good relationships with pupils, parents, carers, teachers, teaching assistants, educational psychologists and social workers
be able to get on well with pupils from different backgrounds with different abilities
be very well organised
be able to manage challenging behaviour
be able to communicate well in many ways
Does this sound like you?  Eteach has a range of SEND jobs available to candidates who want to work with pupils with special needs. For more information or questions, please contact us on 0845 226 1906.

TOP