Teaching in Spain

TEMPERATURE
13°C to 25°C

Currency
Euro

Population
47 million

Language
Spanish

Time Zone
UTC 0
Passionate, sophisticated and devoted to living the good life, Spain is a stereotype come to life and a country more diverse than you could ever imagined. Whether you are taking a sun drenched seaside stroll in Barcelona, or sipping sangria in a café in Madrid, Spain offers both locals and foreigners an undeniably pleasant lifestyle.
Teaching in Spain
The school day in most primary schools in Spain is from 09:00-12:00 and 15:00-17:00. There is a two-and-a-half to three-hour break in the middle of the day for lunch and a siesta. Many children go home for the breaks, though children of working parents may stay and have lunch if this is available.
The school day at secondary schools is normally longer than at primary schools, running from 08:30-15:00 or 09:00-15:00, but as with primary schools times may vary greatly from place to place. A large number of national holidays provides ample opportunities to explore Spain's endless array of cultural and natural treasures from sun-soaked beaches and exquisite Moorish architecture to world-class museums containing works from Spanish national like Picasso and Dali.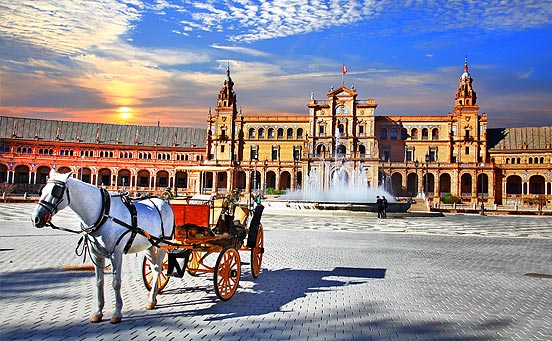 About Spain
Spain was once the most powerful nation in Europe, and the world's greatest colonial power. Some of the great names of Spain's history - Christopher Columbus or Magellan, for example, have left their names and exploits to posterity. Today's Spain has many memories and vestiges of the country's golden past - and also of the darker days and ways of its history, that can be found all over the country, often well off the beaten track.
With its Roman remains, its fabulous castles, its great cathedrals, its museums, its Moorish heritage, its medieval towns and villages, and its fabulously rich natural environment, Spain is a country that has it all, for the enquiring tourist.
Where do you want to teach today?